Best Practices for Using Chisel To Manage Your Products Well
Chisel is a straightforward tool to craft amazing products. However, to get the most out of your Chisel experience, you must consider the following tips and tricks.
To become a Chisel pro and manage your products well throughout the product journey, you need to know the nitty gritty and core features Chisel offers.
Your Chisel workspace is your blank canvas, where you have to paint colors of structure to your roadmaps. Rodamaps are your visual views for goals and work-related tasks. With all that, it is important to have a solid setup of your workspace.
You want your teammates to instantly and smoothly get into the workspace without having to contact you now and then. The information about the products must be digestible.
We highlight all the key features you must use to get the best out of Chisel and successfully manage your products. 
Begin With Checklists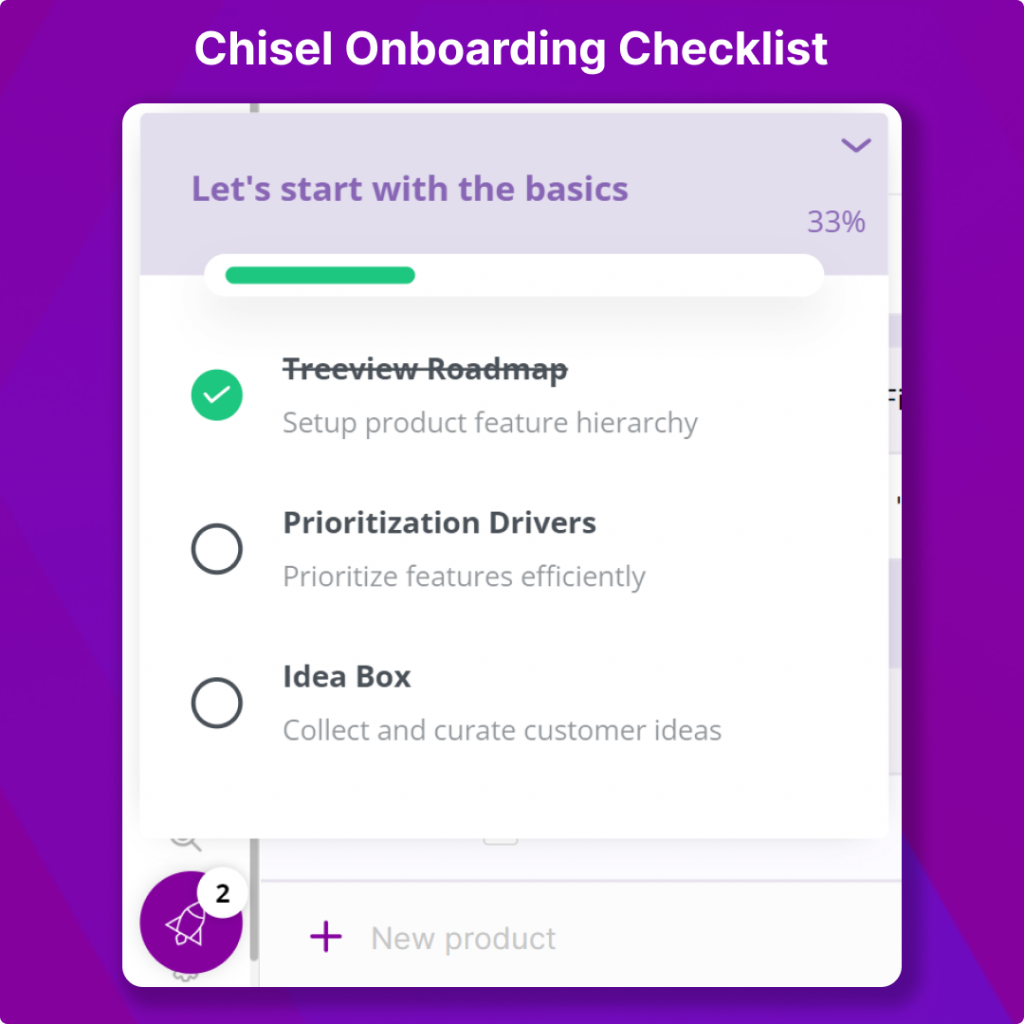 Begin your Chisel journey by using the getting started checklist at the bottom left corner of your workspace. 
Inviting Teammates and Assigning Them the Roles & Permissions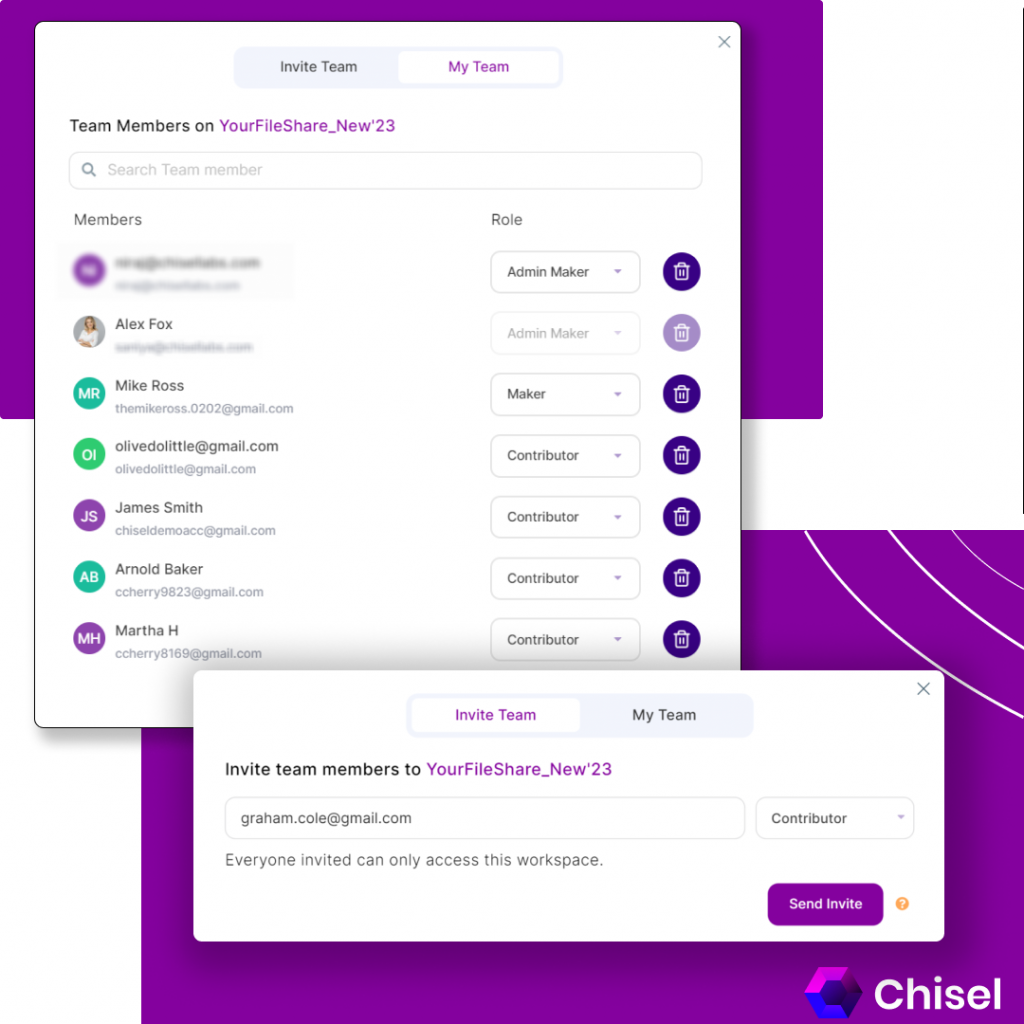 Your role in the Chisel workspace will give you the freedom to edit, have a look at the roadmap, suggest changes, etc. Therefore, it is important to give the right permissions to the right teammates in Chisel.
Assigning the role of an Admin maker to your teammates ensures they have access to the roadmap and can make changes to the products and features and shuffle the details.
The maker of Chisel is vested with the right to edit the roadmaps.
Giving the role of a contributor to your teammate will make sure they can view the roadmap and make comments.
Read more about the Chisel user roles.
Therefore, invite and assign roles with care. That said, correct roles will help you effectively manage your products without much chaos.
Share Roadmaps with Teams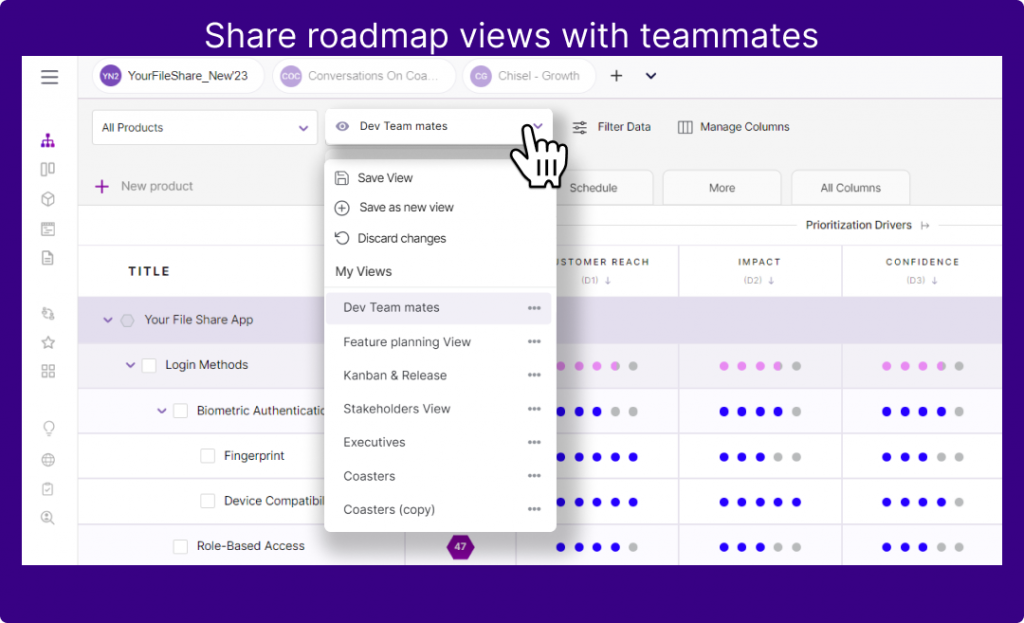 Keeping everyone in the loop about your product strategy is vital. However, one roadmap cannot be adjusted to fit everyone's needs and what they want to know. For example, dev teams demand to see only dependencies. In this case, having what is relevant to each team saves time and effort too.
Customize the roadmap suited to the right audience using Save View in no time. Share the unique link to the saved view with the relevant teams, and get going!
Saves time, saves effort, easy access to each view in seconds.
Collaborative roadmapping is the way to keep your team engaged in the journey.
Add Filters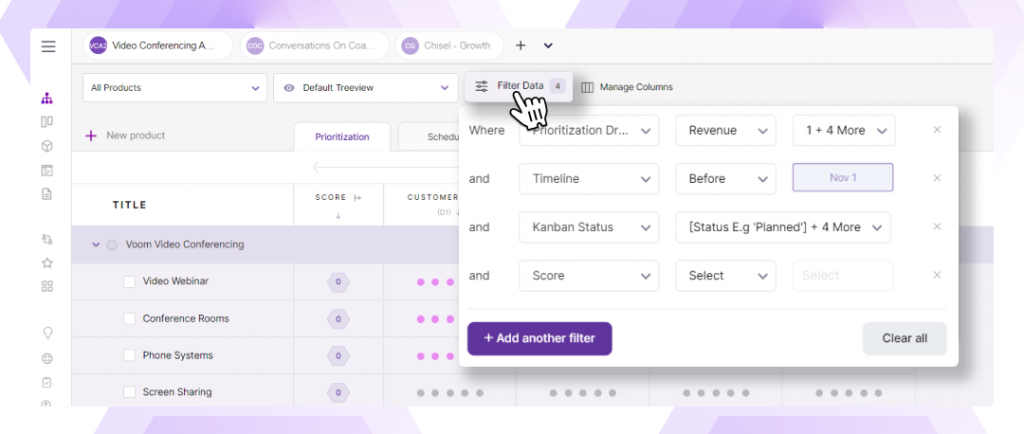 Filtering out your roadmap helps you to view only those products/components that are your priority and focus and that only you manage. This will help you in not getting distracted.
For example, if your current focus is on release features, you may want to not get distracted by the new product and components.
Configuration
Configuration is your place to play around with the title width. When you have too many components and features, keep them collapsed when no longer needed.
Product Hierarchy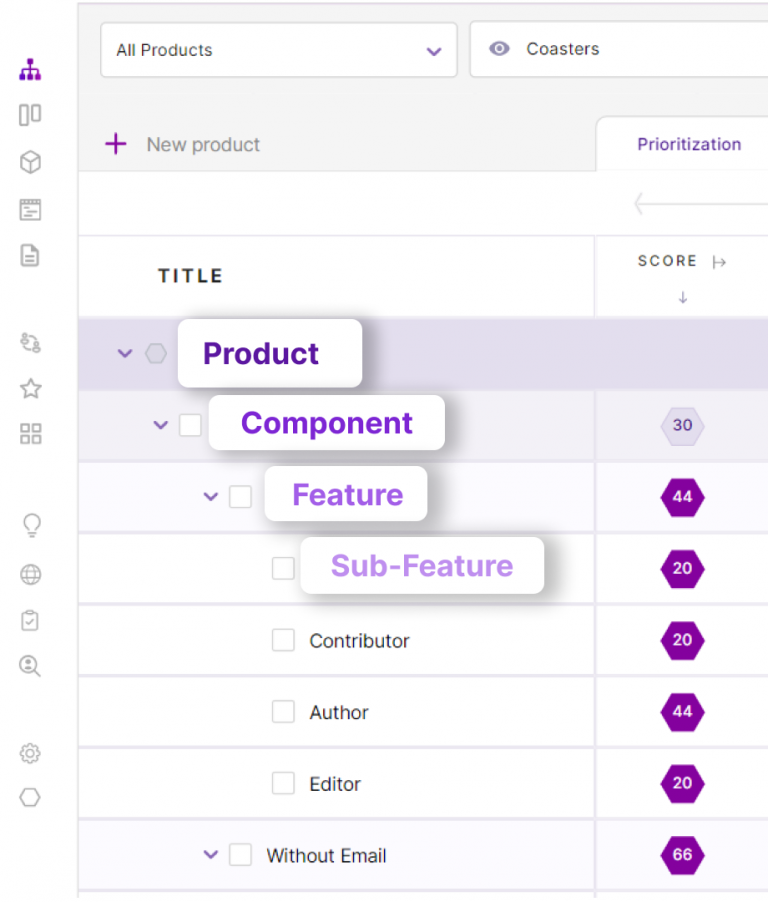 Chisel lets you organize your product features in a more convenient manner using the product hierarchy. We believe in managing your products well; you must follow impeccable organization when planning or structuring your roadmap.
It is your savior in that it will break down your product into manageable pieces.
There are four hierarchical levels in Chisel:
Product
Component
Feature
Sub feature (available in Premium and Enterprise plans)
From time to time, make sure to reorganize your product hierarchy. Ask questions like, Has your product strategy evolved? Are the features easily findable by the team members? These could be your reasons to reassess the product hierarchy.
Drag and Drop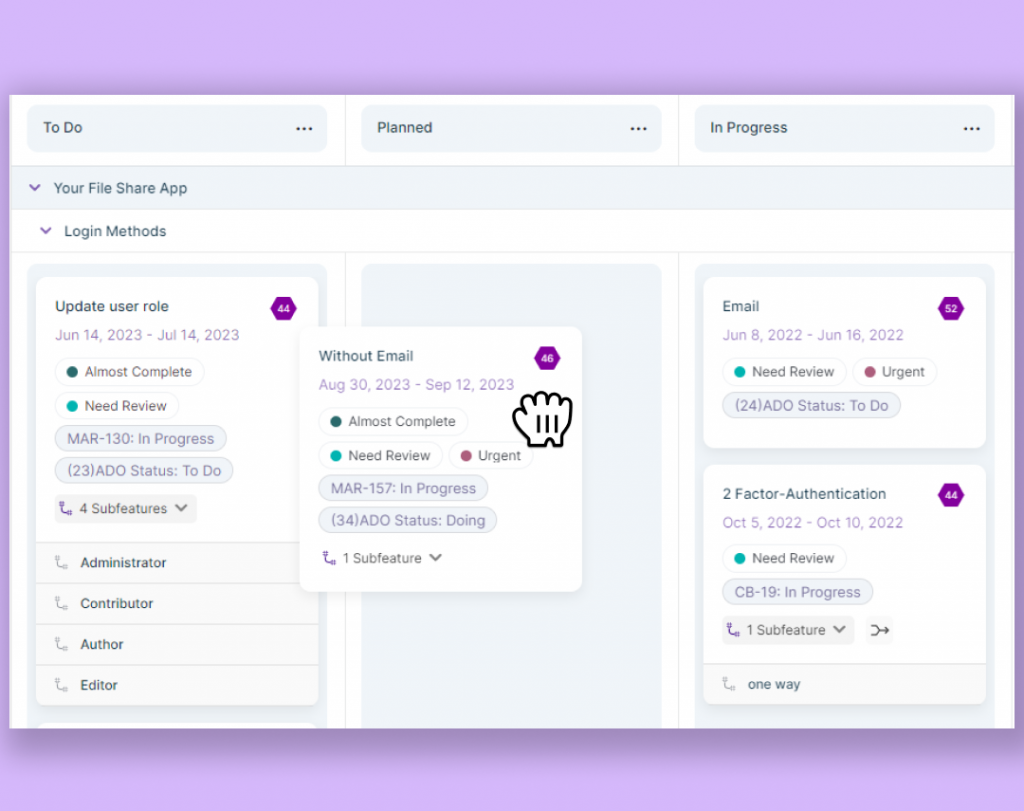 Use drag and drop to move your components, features & sub-features up & down, or in some cases, another product, too. You can do this for treeview, kanban, release & timeline views.
Bulk Actions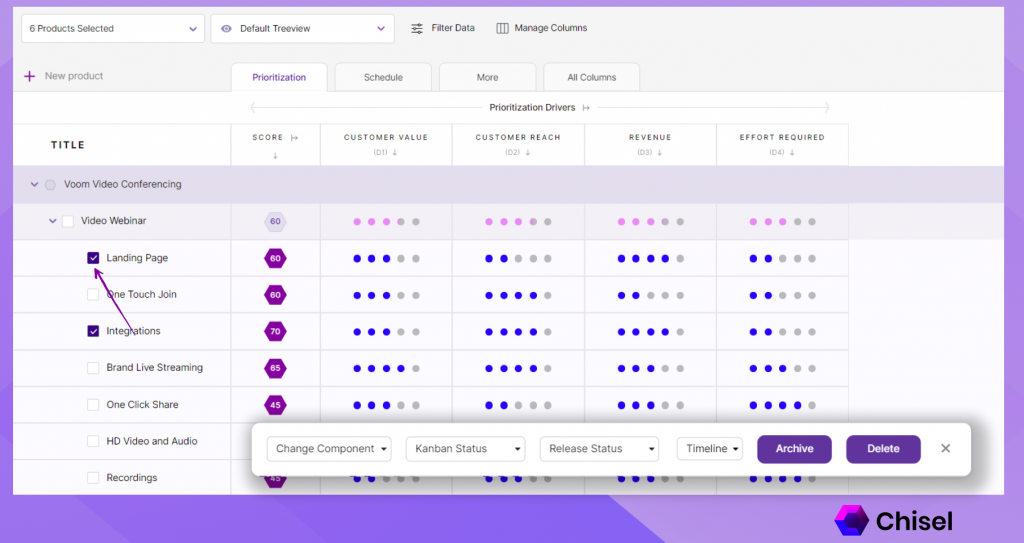 Bulk actions will help maintain your roadmap and a smooth sail. Check in the boxes of components, features, and sub-features and make relevant changes to them all at once.
Knowledge Hub for all the answers
Stuck somewhere while navigating through Chisel? Get the answers within your workspace itself! Click on the question mark icon at the bottom left corner and view a bunch of support preferences for you to pick from.
Show only relevant columns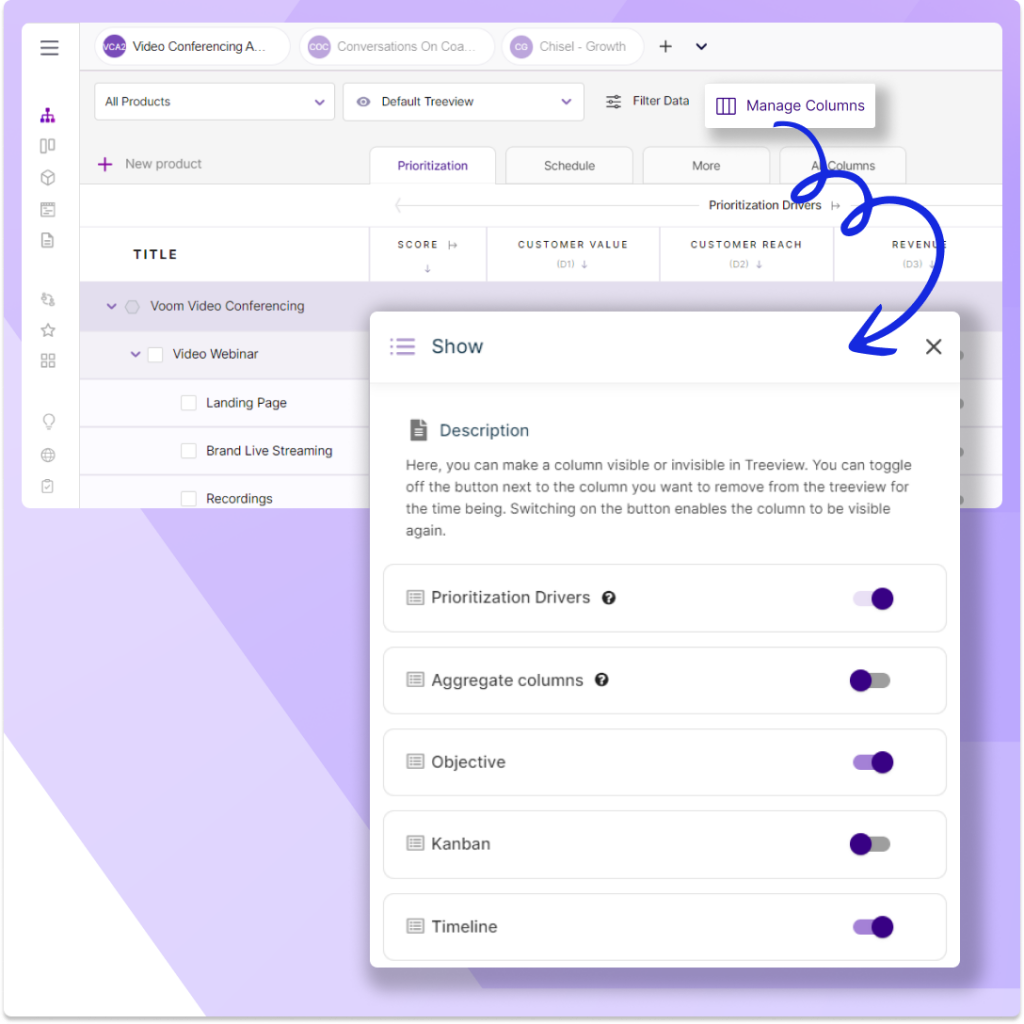 Go to the columns and toggle them off when you want to not use that column at all, or it's irrelevant to your product.
Select only necessary products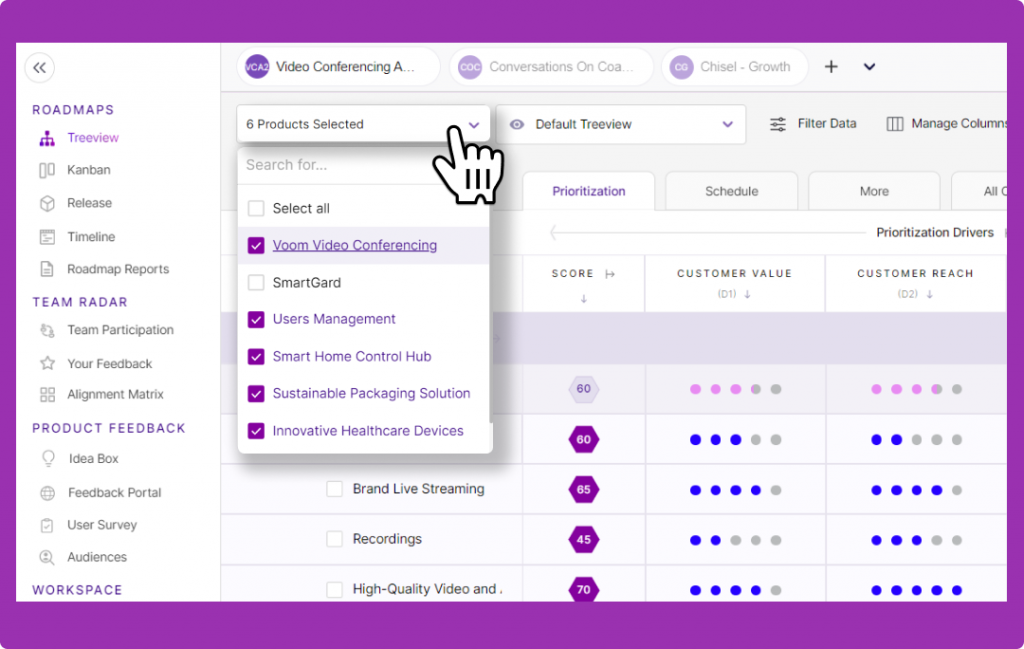 Don't clutter your roadmap with too many products that may create confusion & distraction. Instead, select only those products that you are working on at the moment. 
Team participation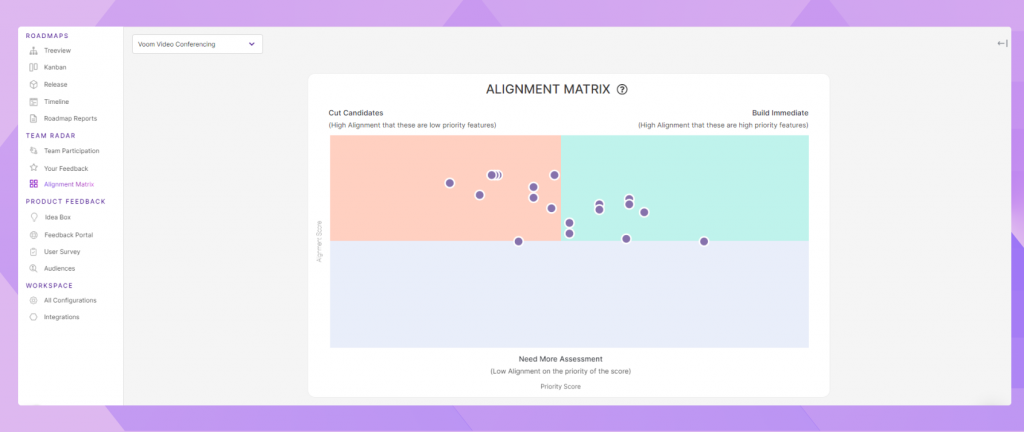 What's the use of working on features if everyone on the team has varying opinions on it? You'd want to get all of them on the same page and make sure they're heard, right?
Team Radar is all about that!
Let your team participate in the feature decisions you make and get their feedback on it. All this combines to give you a visual of what you must work on now, later or will have to mull over.
Roadmap Reports 
Finally, when it's time to have a meeting with stakeholders or other teams to show the progress, create a roadmap report within seconds.
We guarantee you that if you use these features to their full potential, you will have an easy-going, clutter-free, and manageable Chisel workspace.