How and When to Create a Target Audience Panel
Do you have a survey but no one to send it to? Or do you want to expand your customer base but need to know what their likes and dislikes are before proceeding?
Chisel Audience allows you to distribute your questionnaire directly to your target audience.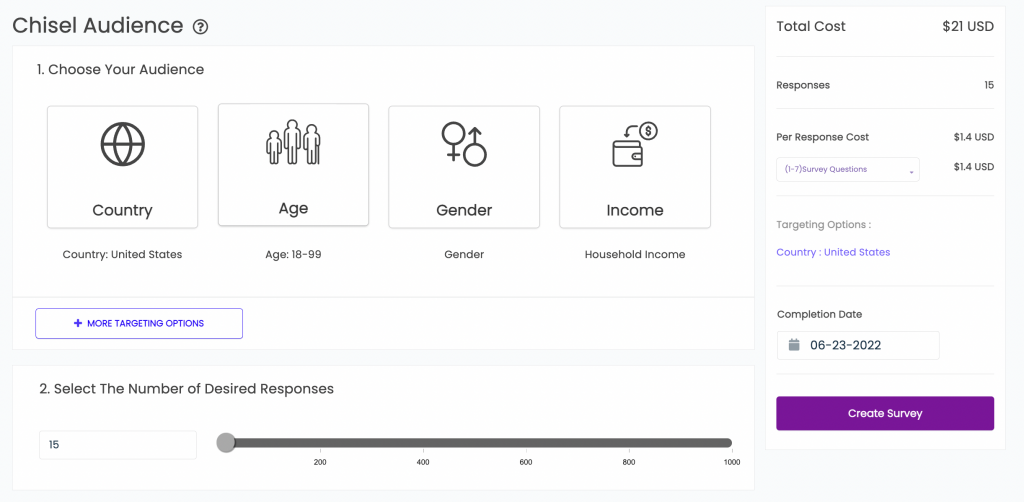 You can customize your audience using the filters available in the 'Audiences' panel. In order to use a specific filter click on the icon associated with the filter in the 'Choose Your Audience' section and a field will appear below the icons. Once the field appears, you tweak the parameters of the audience panel as you see fit.
If the four filters in the 'Choose Your Audience' section are not enough, you can further customize the audience panel by clicking on the 'More Targeting Options' button located below the aforementioned section. Once you do, a pop shall appear listing all the possible parameters for further narrowing your audience panel.
After you have finalized your target audience, you can choose the number of responses you want for your survey by adjusting the slider in the 'Select The Number of Desired Responses' section.
Finally, you can choose the date that you want the responses by clicking on the calendar on the right side of the screen in the 'Completion Date' section.
Note: To know more about How to Use Audiences, Click here.