Chisel User Roles
As an admin maker of your workspace, it is crucial to clearly understand the various user roles your teammates can have. This will help you define new members' control access to features and other actions in Chisel when you invite them to the workspace.
You can always update user roles from the team settings; however, note that the pricing may be affected.
There are three user roles in Chisel. Here's a breakdown of the roles of admin maker, maker and contributor:
The licenses included in your subscription plan will determine the total number of users and the various user roles available on your account.
Admin Maker
Admin makers are primarily responsible for taking the lead on thoroughly editing product roadmaps, managing integrations and feedback portals, etc.
Maker
As a maker, you get full editing rights across all three pillars of Chisel: Roadmap, Team Radar and Product Feedback. 
Learn more about Admin and Maker roles in Chisel
Contributor
Contributors can view the workspaces and add comments
Learn more about the contributor's abilities.
How to delete team members?
When a member is deleted from any workspace, they no longer can log into it. Admin maker and Maker can delete any team members' access.
Note: The team member deleted from the workspace will only be logged out once they refresh the page.
To delete a team member:

Click on the Team Settings icon at the top right corner
Click My Team
Click on the delete button next to the team member's name to delete
Note: If you wish to add the team member again, you must send them an invite.
How to edit user roles?
To edit/change user roles: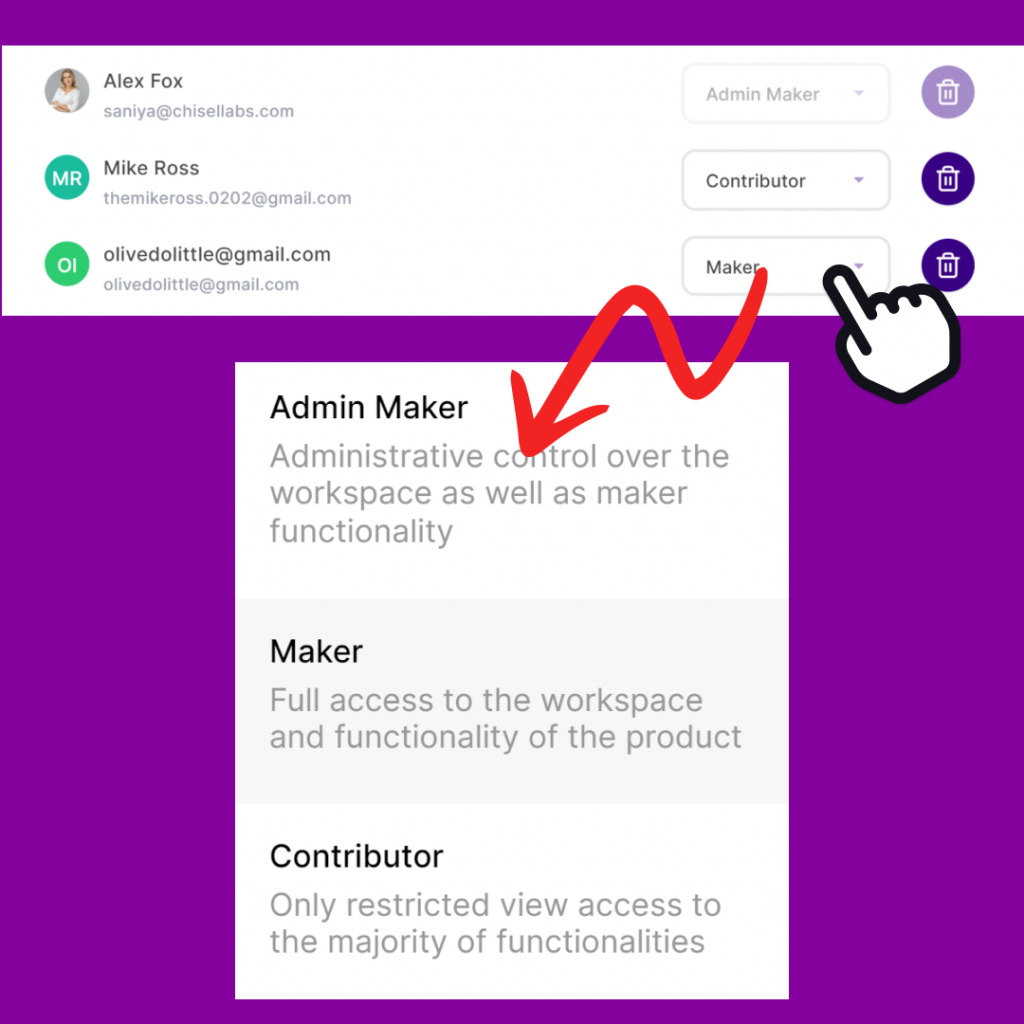 Click on the Team Settings icon at the top right corner
Click My Team
Expand the role button and click on the role you want to assign.
Chisel's Pro-Tips on Assigning User Roles
Each organization has its requirements and can determine the appropriate user roles and access controls as it deems fit. We'll share the general tips to assign roles to your teammates.
Primarily, Admin makers and Makers will be the product and design teams.
Your other colleagues and customer success teams, like sales, marketing, and support, will have the contributor access. They can share ideas and contribute to the feedback and requests.
Permissions at a glance