Product Tour
Welcome to Chisel!

Chisel is a powerful product management tool that helps support a product manager in the three most important aspects of their job:


Managing the product roadmap/backlog
Keeping the team aligned on what they need to work on next
Conducting user research to determine the needs of the customer
Roadmaps
The task of helping a product manager manage their backlog and build their roadmap is done in the Roadmaps pillar of our product.
The roadmaps pillar is broken down into 4 different views.
The first view is the 'Treeview' which fully displays all the components/epics that you want to build and all the features that accompany them.
In the treeview, you can rate features based on various criteria that you deem important in order to create a prioritization score for your features.
You can see the features sorted by the releases that you placed them in and move them accordingly, in the release view.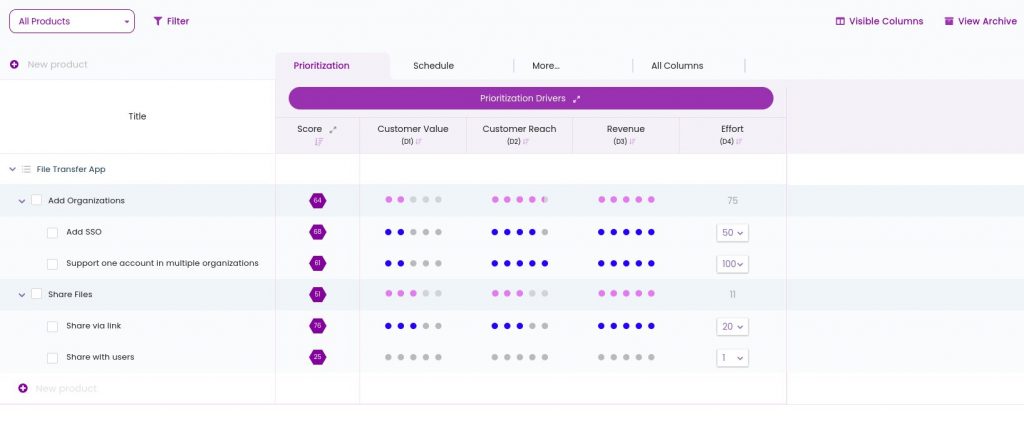 The second view is the 'Kanban' view.
In the Kanban view, you can see the status of your features and adjust them as they change during a sprint.

The third view is the 'Release' view.
In the Release view, you can see which features are planned to ship and in which releases.

The fourth view is the 'Timeline' view.
In the timeline view, you can get an overview of the progress of your product.
You can also see when the team has decided to build specific features.

Team Radar
Chisel's Team Radar pillar is responsible for ensuring that everyone stays on the same page in your organization.
The team alignment pillar has 3 important screens.
The 'Your Feedback' screen ensures that everyone gets their voice heard by providing them a place to give their feedback on the PM's score.

The 'Alignment Matrix' provides the user with a visualization of people's feedback on the features that are planned in the backlog.

The 'Team Score' lets the PM see everyone's opinions of a feature.
It also requests team members to rate a feature if they have not done so.
User Research
If you want to understand what your customers are thinking, Chisel's 'User Research' pillar helps you do exactly that.
The Survey screen lets users create surveys and send them out to their customers in order to get feedback.


If you don't have a set of customers you can email, no worries, you can simply use Chisel's Audience panel filter to send out the survey to your target audience.