Different Collectors in User Surveys
How to Access Survey Collectors?
Once you have created a survey template, you will have to share it with your target audience to get responses. 

To access survey collectors, click on any survey of your choice, and go to the 'Get Responses' tab.
Here you can select from three different collectors available.
Link 

The link option will give you a link to share with your customers.

Click on the 'Link' option and put the 'Collector name' in the box. Now click on the 'Publish' button.

Once you do so, you will get the link along with the other status of your survey, such as the collector's name, responses, and so on.





You can copy this link and send it across. 
Note: To differentiate the response coming from various sources, you can add multiple collectors.
Email

Once you click on the 'Email' button, you will have to fill in the collector's name in the given box.
A screen will appear wherein you can view recipients' details, such as an opened and unopened percentage.
To send the email, click on the 'Compose Email' button on the other side of the screen.
Here you can select either 'Individual' 'email' or 'Bulk list.'

Individual Email

If you wish to send an individual email, fill in the email address, name, and other details of the concerned person, and click on the 'Submit' button.
Bulk List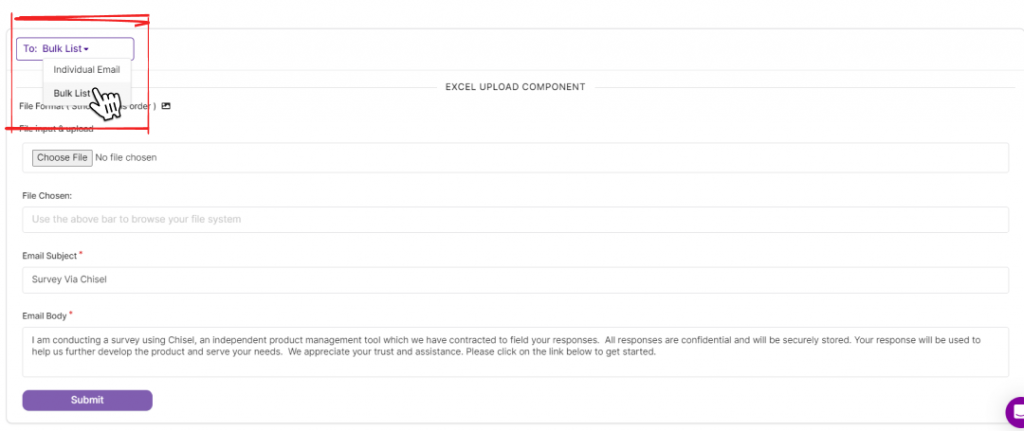 You will have to upload an excel file in 'email, name, and last name' format for the bulk list email.  Fill on other details and click on the 'Submit' button.
Panel
If you don't have access to customers, fret not!
Chisel will share your survey with the right audience and get you the responses. 
Click on the 'Panel,' write the collector's name, and click the 'Publish' button.
Here you can choose your audience from the country, age group, and other details you wish to target.
You can also choose from the '+More targeting options.' Select the number of responses you'd like to target.
Finally, click on the 'Checkout survey' option to make the payment.